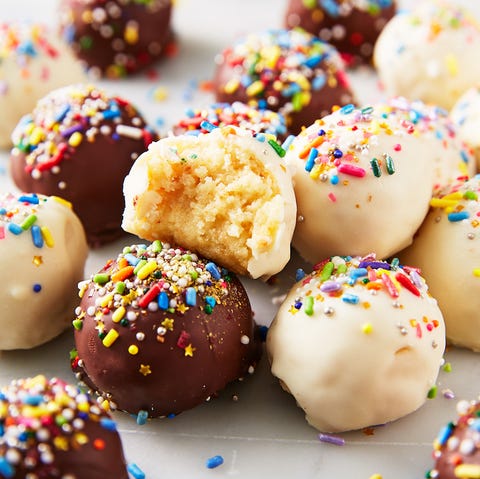 You can use any type of cake for this recipe. Our classic vanilla would be wonderful here. (You can bake it in two 8″ pans instead of a cupcake pan.) But truthfully, we like starting with boxed mix. With the homemade buttercream, chocolate coating, and festive sprinkles, no one will notice or care.
INGREDIENTS
Cooking spray1
box cake mix, plus ingredients called for on box3/4 c.
(1 1/2 sticks butter), softened 3 c.
powdered sugar3 tbsp.
heavy cream1 tsp.
pure vanilla extract
Pinch kosher salt2 c.
white chocolate chips2 c.
semi-sweet chocolate chips 4 tbsp.
coconut oil, divided
Sprinkles, for decorating
DIRECTIONS
Preheat oven to 350° and grease a 9"-x-13" baking pan with cooking spray. Prepare cake mix according to box instructions and spread evenly into prepared pan. Bake until a toothpick inserted into the center comes out clean, about 30 minutes. Let cool then break cake into small crumbs.
In a large bowl using a hand mixer, beat butter until smooth, then add sugar and beat until combined. Add cream, vanilla, and salt and mix until smooth. (Add more cream if frosting is too thick.)
Line a large baking sheet with parchment paper. Stir cake crumbs into frosting, then form mixture into tablespoon-sized balls. Place on a prepared baking sheet and refrigerate until firm, 1 hour.
In a deep-sided heatproof bowl, microwave white chocolate and 2 tablespoons coconut oil in 30 second intervals until melted. Repeat process with semisweet chocolate.
Dip chilled cake balls into melted chocolate, shaking off excess chocolate. Immediately decorate with sprinkles and return to baking sheet. Refrigerate until hardened, 15 minutes.